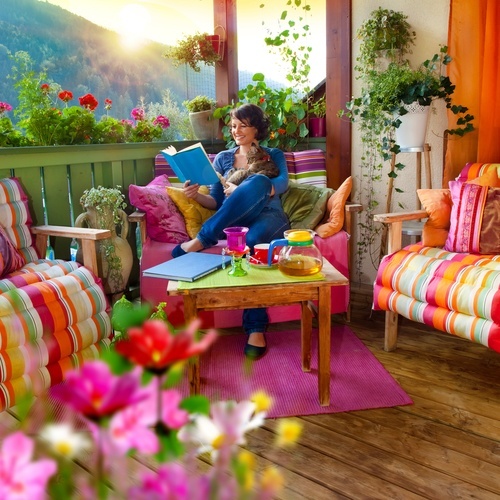 As prices for Beach Cities' single family homes continue to push upward many potential buyers are buying townhomes and condos as a less expensive alternative. Folks who are downsizing are also making the move to townhomes and condos as they are often easier to maintain than a single family home.There are a number of townhomes and condor communities in Manhattan Beach, Hermosa Beach, Redondo Beach and El Segundo that have lovely interiors but small outdoor areas.
The fabulous weather along in our local Beach Cities makes outdoor living highly desired.  Many folks have grand visions of a summer spent outside, enjoying the sunshine and soft warm breezes.  Unfortunately they may feel like this is all a fantasy because they have a tiny patio that couldn't possibly live up to their expectations.
Not to worry!   Here are some 6 tips to turn your small patio into the place of  your dreams.
Keep the design consistent
One of the best ways to make your small patio feel more expansive is to keep the design consistent with what you have in the house. When you open the door, the patio becomes an extension of your indoor living space, spilling out into the outdoors. If you have room for furniture, opt for those in the same style as the adjoining room, and choose similar colors. Keep the floor plan open so that the indoor room flows seamlessly onto the patio.
Consider Proportions
Nothing overwhelms a tiny space like big furniture, so choosing the best sizes for your small patio is key. Opt for chairs and tables with thin lines, clear acrylic or glass to take up less visual space. Make the most of the space you do have by choosing furniture that does double duty, such as a storage box that can double as a bench. Nesting tables and folding chairs also save space when not in use.
Hang a mirror
Mirrors are a common choice in small interiors to help make the space feel bigger, and the same can apply on your patio. Mirrors can help reflect nature back at you, and if you choose a mirror in a bright color or with a stylish design, you can add some wonderful visual flair while you're at it.
Think vertically
Think you can't have a garden because you don't have the space on your patio? Think again. Many homeowners with small patios have turned to vertical gardening, using the walls of their patio space to grow both vegetables and flowers. A trellis can be used for vining plants, and a pallet garden can be the perfect place to tuck lettuce, herbs and other edible plants.
Don't forget the floor
Don't leave the floor out when you decorate your outdoor space. In fact, updating a cement floor will make the space feel much more inviting and livable. Throw rugs can help to soften and warm up a cold floor, and there are even products on the market that allow you to install a temporary wooden floor over concrete.
Add finishing touches
After all these considerations, what's really going to make the difference in your outdoor space are all the finishing touches that make it feel personal. String lights will warm up the space in the evening, throw pillows will make everything more comfortable, and a cozy blanket will make those chilly nights much more inviting.
Just because you have a small patio doesn't mean you can't enjoy it! With a little thought and creativity, you can turn your tiny space into an outdoor oasis.
Have questions? Please feel free to call or e-mail me.