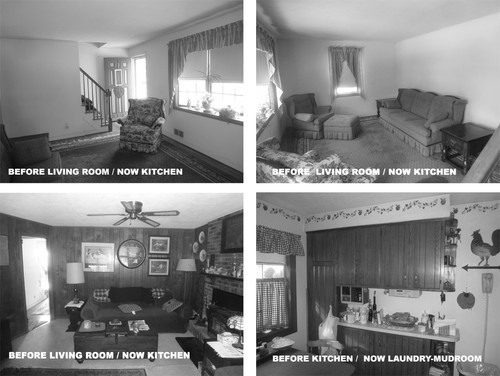 Houzz.com is a  wonderful resource for folks thinking about remodeling or updating their home.  While South Bay-Beach City homeowners love their homes,  they can be difficult places to live in as you get older.  Most of the older one level homes have been replaced by two-story homes in the last 30+ years.  Two story construction allows owners to add square footage to homes on small lots.   A two-story home is not an issue until folks get older and find stairs to be a pain.. literally in some cases!  Aging in place is the goal for many homeowners who love their homes and neighborhoods. Two story home floor plans can make that tough.
The Houzz article shows how homeowners changed their two-story home into a place that worked for them with a bedroom on the first floor and left the upper level as guests. quarters.The owners loved where they lived.  They wanted to age in place.  As you can see from the photos above the owners made some radical floor plan changes.
The house floorplan was not as user-friendly as the owners needed.   The home was not overly large but the second story made getting to the master bedroom difficult.   A reworking of the available space makes the home feel larger.  The changes were all positive and made aging in place a workable solution for the owners. The changes in the lower level opened up the available space as well as providing age-friendly features as wider halls and bathrooms that can be wheelchair friendly. Often it is small changes that allow a homeowner to stay in their home and neighborhood.  Definitely, something to consider for all of us as we get a bit older.